Here's the skinny on all of these club crawls, it really is Buyer Beware!!!  Everyone is copying the original club crawls designed by Nite Tours Las Vegas.  It's a great compliment, but these companies need to step up their quality and service game if they are to play in this league.
There are only a few Club Crawl Companies who are actually worthy of you purchasing their tours.  They offer newer buses, full assortment of beverages, certified guides and so much more…If you want to try other tour companies, use what Nite Tours offers as your guideline.
You need to beware of these companies who design a great website to sell tours and then offer a horrible tour.  Here are some hints to look for when buying a club crawl from a company in Las Vegas.
How many years have they been in Business?  If any company states they are the "Original" or "The First" club crawl company in Las Vegas, then you RUN!  Any club crawl company stating they have been around since earlier than 2009 they are lying.  Nite Tours Las Vegas opened their doors to introduce Club Crawls in Las Vegas in late 2005 and there was no other company until 2009.  So if they claim to the the "Original" run the other direction.
Look at the price.  $99 for 2 night clubs is not a fair price. Yes they may offer a long bus ride, but seriously do you want to be on a bus stuck in traffic on Las Vegas boulevard drinking and getting car sick? (yes traffic is horrible on the strip so you won't see much).
Certified Tour Hosts.  Nevada Gaming now warrants that all Club Crawl companies must have all tour hosts certified through Nevada Gaming. without this your tour is not allowed in any Las Vegas hotels nor in any Las Vegas night clubs (all clubs are in a major hotels).

Remember your Certified Tour Host is your best friend.  He/She gets you in and out of the clubs, on and off buses, making sure the tours are on time, makes sure you are not roofied, and that you are safe through out the night. Basically your wing-man or wing-woman who is your protector so you can have fun and let loose without a care in the world.  It's his or her job to take care of you.

Look for the Club Crawl line up. They should offer a combination of these clubs: TAO, Hakkasan, OMNIA, XS, LIGHT, Marquis, Jewel are all worthy night clubs.
Usually the first lounge will set the mood for the evening.
Luxury Party Buses.  Some companies offer DJ's, open bar, all you can drink, etc etc…However, if the bus breaks down, your stuck!  Don't be fooled by 22″ wheels, great stereo, and light show. Look for the year of the luxury bus or pictures of the bus.  All Party buses are pretty much the same inside and offer music, drinks, light show, stripper pole. However, the newer the bus the better the AC, the better the quality of the interior.  you want your money's worth on your tour
Luxury bus should transport you to at least 2 night clubs
Adult Beverages on Party bus.  Look for a diversity of beverages such as beer, coolers, champagne and waters. some companies offer soda and an assortment of non alcohol beverages.
Social Media is also a good sign.  We use TripAdvisor.  Look for ratings. Not all ratings are fair, and you must remember that these people may leave a bad rating after "THEY" miss the bus or get kicked off the tour.  read between the lines and look at the Owners or Managers response to each rating.  4 Plus stars is good
Don't be fooled by "Sales Rep" selling you a ticket on the Las Vegas Boulevard.  they will start with a $100 per person and as you walk away they will go as low as $39 per person. you get what you pay for.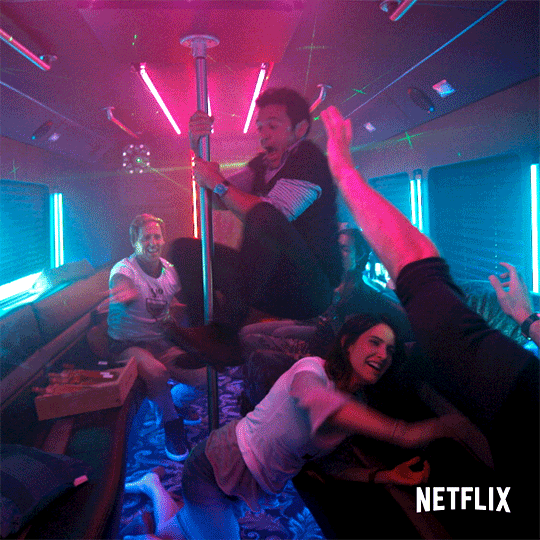 You want the following for your Club Crawl
Starting lounge to check in should be a high-end venue and location inside a hotel
starting location should offer a discount drink
Host should be greeting you and introducing you to everyone on your bus
Paying $89 should have 3 of the following night clubs included in evenings line up: TAO, Marquis, XS, OMNIA, Jewel, 1Oak, Hakkasan, Light
Tour Host should be Certified by Nevada Gaming
Company should be Certified by Nevada Gaming
Luxury Party Bus is no older than 2017
Assortment of adult beverages and non alcohol beverages on the buses
---
Any advice we can give you this would be it.  Stay with your Tour Host all night, he/she can introduce you to cool people.  watch the bus times as the bus will leave you behind.  LADIES watch where you get your drinks or how you leave them on a table – Las Vegas is famous for drugging women, and this is one of the reasons that Nite Tours is in Business, to offer a safe entertaining evening in Las Vegas.  Pick Pockets are everywhere, watch your pockets guys.  one more tip for guys, women who promise to show you a good time who are not on the tour, will show you a good time. It may cost you your watch, credit cards, passport or worse, so please be careful!!!
---